---
---
There will be no June meeting due to the Coronavirus regulations. As yet we do not know what restrictions there will be after the summer break.
We want all our members to stay safe and will therefore seek to comply with all HSE regulations regarding social distancing. We will advise members by email when it is possible to return to our usual programme of talks on the second Tuesday of the month.
We would encourage members who have time on their hands to research a local history topic that interests them with a view to perhaps giving a talk when things return to normal. If anyone would like to do so but feels they need help to get started, please do contact us through the website.
---
Location & Time:  Skerries Bowling Club at 8.15 pm. 
---
Annual Membership fee for season 2019/20 is now due.
The Annual Membership fee of €10 for 2019/20 is now due. Members can renew at any of our monthly meetings or online here.
---
Time & Tide Vol 11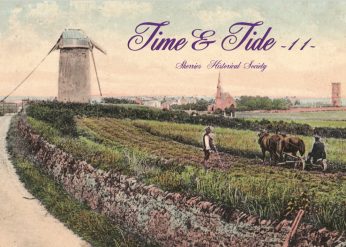 Time & Tide, Volume 11, published October 2018, contains a collection of papers from our archive. The papers chosen include oral history from the early 20th century, Milverton School, Balrothery Workhouse, the Easter Rising and the revolutionary period, maritime history, histories of Holmpatrick and Holmpatrick Church, a story from the Second World War, and a short history of Skerries Tidy Towns.
Time & Tide can be purchased online by clicking here.
It is also available in several local shops. Skerries Mills, Skerries Bookshop and Greg Reddins.
---
Fieldnames Project
Skerries Historical Society is one of six groups chosen by Fingal County Council to help with the Fingal Fieldnames Project
Abarta Heritage were appointed as consultants to give training to the six groups on a method of collection and ideas of were to collect information along with research resources.
This has now been consolidated into a manual which provides information and guidelines to volunteers on all aspects of the project.
This is a continuing project to be worked on until as much of the fields of Fingal have been recorded as possible.
Phase 2 of the project will continue to expand on the work started in Phase 1.
If you are interested in participating please contact Geraldine Clarke on 086-3468602 or email oldskerries@gmail.com.
This is for everybody in the local community, you do not need to be a member of Skerries Historical Society. 
---
Committee Members 2019/20
Chair – George Hand
Vice Chair – Carmel Power
Hon Secretary – Stephanie Bourke
Hon Treasurer – Brendan Grimes
Hon Librarian – Maree Baker
Hon Archivist – Oona Roycroft
PRO – vacant
with Geraldine Clarke, Bill Kee and Pauline Hanlon.