---
Next Meeting – Tuesday 13th November 2018 at 8.15 p.m.
Tufa stone in medieval Fingal and beyond.
by Niall Roycroft
Tufa has been used in buildings since early medieval times and there are plenty of examples close to home. Still in situ on Saint Patrick's Island are the remains of vaults and windows built out of tufa; the medieval church of Kenure and several wells on the local beaches also feature tufa. And why not? There are tufa sources in the form of petrifying springs all along our coast from Barnageeragh to Drumanagh to Rush. What is tufa and why was it favoured as a building material? Find out at Niall's talk on 13th November.
---
Location & Time
Skerries Bowling Club
, Tennis Court Lane side of SuperValu carpark at 8.15 p.m
Co-ordinates
---
Time & Tide Vol 11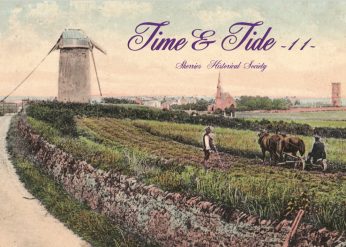 Time & Tide, Volume 11, published October 2018, contains a collection of papers from our archive. The papers chosen include oral history from the early 20th century, Milverton School, Balrothery Workhouse, the Easter Rising and the revolutionary period, maritime history, histories of Holmpatrick and Holmpatrick Church, a story from the Second World War, and a short history of Skerries Tidy Towns.
Time & Tide can be purchased online by clicking here.
It is also available in several local shops. Skerries Mills, Skerries Bookshop and Greg Reddins.
---
Fieldnames Project
Skerries Historical Society is one of six groups chosen by Fingal County Council to help with the Fingal Fieldnames Project
Abarta Heritage have been appointed as consultants to progress the project and give training on a method of collection and ideas of where to collect information, so that there is a consistent approach by all the groups. Work will be carried out over the next year and hopefully it will be possible to see patterns or themes emerging. Themes to look out for will be fieldnames to do with topography, local people, local events and names in Irish.
If you are interested in participating in this exciting project please contact us at oldskerries@gmail.com or text or ring Geraldine Clarke on 086-3468602
You do not need to be a member of Skerries Historical Society. It's for everybody in the local community.
---
Committee Members 2018/19
Chair – George Hand
Vice Chair – Carmel Power
Hon Secretary – Stephanie Bourke
Hon Treasurer – Brendan Grimes
Hon Librarian – Maree Baker
Hon Archivist – Oona Roycroft
PRO – vacant
with Geraldine Clarke, Bill Kee and Pauline Hanlon.