Time & Tide, Vol. 3 brings together a further ten papers from the Society's archive.
Why Local History . .is one of the titles in this new collection. The reader need only dip into this volume to discover some of the answers to that question and share the wealth that is our local history.
Contents
Townland of Hacketstown Part 1 – Maree Baker & Maighréad Ní Mhurchadha
Skerries Landmarks – Paddy Sexton
From Scythe to Setaside – Joe Clinton
Why Local History – Brendan Grimes
New Housing Estates – Elizabeth Cross & Pauline Keane
Martello Towers – Rory McKenna
Memories of Milverton Demesne – R.S. Duff
Motor Cycle Racing in Skerries – Joe Heffernan
F.J.McCormick – Paddy Halpin
The Old School – Maree Baker, Stephanie Bourke & Joe Murray
---
Volume 3 costs 10.00 euro.
Choose your shipping destination:
Ireland (per book): €2.35
Outside Ireland (per book): €5.00
---
Time & Tide is on sale at several local shops:
 Alternatively, email librarian@oldskerries.ie and have the book(s) mailed to you (postage payable).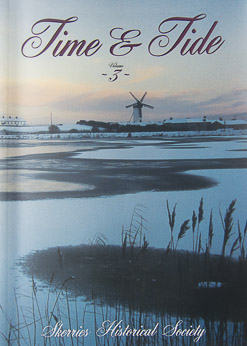 Other Volumes Available for Purchase