Updated 8th December 2018
For details of other talks which may be of interest to you please check Skerries Historical Society's Facebook page, see SHS – Facebook
Please also 'like' our Facebook page.
---
Are You A Button Man?
"Following a sell-out debut in The Sugar Club in April 2018, Are You A Button Man? returns to the docks
Date: Saturday 15th of December
Venue : EPIC The Irish Emigration Museum.

Are You A Button Man? is a collaboration of storytelling, music and song in celebration of Dublin's former dock workers presented by Macdara Yeates and the Dublin Dock Workers' Preservation Society.

Join historian Donal Fallon (Come Here To Me!, National Treasures) in conversation with Paddy Nevins, Declan Byrne, Paddy Daly and John Walsh as they tell the historic, gruelling and comic tales of their many years of service on the Dublin docks: loading the fragile sales cargo of one Hector Grey; smuggling crates of Vodka for a Docker's daughter's wedding; and the hoisting of two of Dublin Zoo's African elephants from a British liner onto dry land. With music from Lisa O'Neill, Danny Diamond (Slow Moving Clouds) and Macdara Yeates (Skipper's Alley).

In association with EPIC, The Dublin Port Company and the North East Inner City Fund.

Tickets (€ 7.50) available at:
https://macdarayeatespresents.eventsmart.com/?p=57"
---
Cultural and Heritage Studies Course in Dublinia
The course is a level 5 QQI approved programme runs full time for 50 weeks from January 2019 . It would be of interest to anyone who wants work in the heritage industry or anyone who has an interest in learning more about Irish history and archaeology.
The culture and heritage course begins on 7th January 2019.
Modules on the course include; Local History, Irish Archaeology, Appreciation of Irish Culture, Irish Folklore, Irish Heritage and more.
For more information please see  http://www.dublinia.ie/training/culture-and-heritage/
---
Fingal Fieldnames
Skerries Historical Society has been chosen as one of six groups by Fingal County Council to help with the Fingal Fieldnames Project
Abarta Heritage have been appointed as consultants to progress the project and give training on a method of collection and ideas of where to collect information, so that there is a consistent approach by all the groups. Work will be carried out over the next year and hopefully it will be possible to see patterns or themes emerging. Themes to look out for will be fieldnames to do with topography, local people, local events and names in Irish.
If you are interested in participating in this exciting project and/or attending the training session please register your interest by contacting SHS at oldskerries@gmail.com or text or ring Geraldine Clarke on 086-3468602
You don't need to be a member of Skerries Historical Society. It's for everybody in the local community.
---
Skerries Historical Society is pleased to announce that our Time & Tide publications can now be purchased online. Cost per book plus P&P is shown on each Time & Tide page. Example see Time & Tide Vol 11
An excellent present.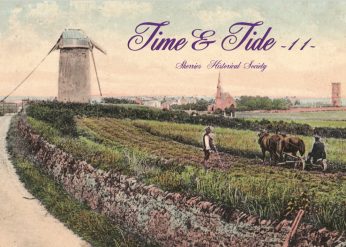 ---
Book by Frank Whearity – 'The Easter Rising of 1916 in north County Dublin: a Skerries perspective'.
Click on image to enlarge.
---
Book by Aidan J Herron entitled 'to the Beat of a Savage Drum'.
Aidan Herron is a Winner of the Irish Writers Centre 2015 Novel Fair. 'To the Beat of a Savage Drum' joins the very short list of fiction set around the Battle of Waterloo and commemorates the 27th Inniskillings, the only Irish Regiment of Foot to take part in that epic encounter.
Click on image to enlarge.
---
Skerries Historical Society is delighted to find that one of our past speakers, P J Mathews, has produced a wonderful new book in collaboration with fellow UCD academic Professor Declan Kiberd.
Regulars at the SHS talks will recall P J Mathews' talk in January 2012 when he painted a fascinating verbal portrait of his grandfather, Paddy Mathews, the Milverton Quarry stonemason.
P J and his collaborator, Prof. Kiberd, have now gathered a varied collection of texts from the period between 1891 and 1922 for the 'Handbook of The Irish Revival', which has been nominated for an Irish Book Award in the Best Irish-Published Book of the Year class. There are six books shortlisted in this class – all of them look to be very interesting – and we wish P J and Declan all the best in the Irish Book Awards.
Click on image to enlarge.
---