Updated 22 November 2019
---
---
---
Press Release from Balbriggan and District Historical Society
Balbriggan is the Place to be in September 2020
The Centenary of the Sack of Balbriggan by the Black and Tans in September 1920 takes place next year and Balbriggan & District Historical Society is working to commemorate this major historic event in an appropriate and inclusive manner.
This critically important part of our town's history involved the shooting dead of one RIC member, Peter Burke, and the wounding of another, which prompted the subsequent havoc wreaked on the town and its inhabitants by the Black and Tans. Numerous houses, a factory and several business
premises in the town were destroyed as a result, and hundreds of people were forced to sleep outdoors for several nights in fear of their lives.

The night of terror on 20 th September culminated in the brutal murder of two local men, James Lawless and John Gibbons by the Black and Tans.

Building on contacts that the Society has forged with local schools, we plan to work with them in early 2020, providing them with information regarding the Sack, and encouraging enthusiastic involvement from all.

In the weeks leading up to September 2020, Sack-related historical walks of the town will be organised.
In co-operation with local businesses and Fingal County Council, we intend to organise a photographic exhibition to be displayed in the streets and in local businesses throughout the town.
Weekend Commemoration, 19th & 20th September 2020
A full-day seminar will take place in the Bracken Court Hotel on Saturday, 19th September, involving a series of talks related to the Sack of Balbriggan and its aftermath, including events from the perspective of the RIC. We hope to have an exhibition of contemporary media reports of the
events, together with other memorabilia relating to the Sack.

On Sunday, 20th September, a religious service will be held, followed by a parade and a wreath-laying ceremony at the Lawless and Gibbons plaque on Bridge Street – an opportunity for everyone to get involved.
In addition, we plan to publish a book on the Sack of Balbriggan, and the unveiling of a commemorative memorial in the town is another idea that is gaining momentum.
Watch out for our Sack of Balbriggan commemorative medals and calendars which will be available for sale from this November (2019).

Balbriggan & District Historical Society can be contacted at balbrigganhistsoc@gmail.com.
---
Dublin Festival of History
Organised by Dublin City Council
All events are free.
See http://dublinfestivalofhistory.ie/
---
See below information on a series of HISTORICAL Talks in Dun Laoghaire coming up in October, November and December.
---
Fingal Fieldnames
Skerries Historical Society is one of six groups chosen by Fingal County Council to help with the Fingal Fieldnames Project
Abarta Heritage were appointed as consultants to give training to the six groups on a method of collection and ideas of were to collect information along with research resources. This has now been consolidated into a manual which provides information and guidelines to volunteers on all aspects of the project.
This is a continuing project to be worked on until as much of the fields of Fingal have been recorded as possible.
This is for everybody in the local community, you do not need to be a member of Skerries Historical Society. If you are interested in participating please contact Geraldine Clarke on 086-3468602 or email oldskerries@gmail.com.
---
Skerries Historical Society is pleased to announce that our Time & Tide publications can now be purchased online. Cost per book plus P&P is shown on each Time & Tide page. Example see Time & Tide Vol 11
An excellent present.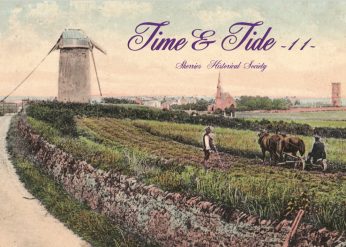 ---